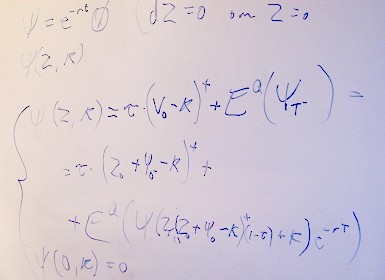 Careers
Do you want to work in the most competitive field of the global economy? Quantitative finance is a field that provides some of the most challenging math and engineering problems and attract some of the most brilliant people. To stay successful in this business Ampfield is continuously looking for intellectually curious people who can contribute to our team and reinforce our competitive edge. We are particularly interested in outstanding students from the Engineering Physics program with a strong mathematical background and a genuine interest in the financial markets.
We offer a dynamic and intellectually stimulating work-environment that encourages curiosity and critical thinking. With us, you will have the opportunity to immerse yourself in your areas of interest, develop your theoretical skills and learn to apply them on real problems.
Ampfield can offer internships, part-time jobs, degree projects and full-time positions. Students and experienced professionals interested in Ampfield, please send your application to rekrytering at ampfield.se.
Available opportunities:
Full time positions (for graduates and experienced professionals):
Degree projects:
Degree project proposal (förslag på exjobb)
For students:
Sign up for career updates from Ampfield by sending an email to rekrytering at ampfield.se.
NOTE: Before calling us or sending us an email, please see our email and phone call privacy policy.